Took a day trip to Fujairah, passing Masafi Town, Dibba, Khor Fakkan and Fujairah City on the way and stopping at Wadi Shawka on the drive back. Time well spent for sure.
The Friday Market
On the way to Masafi town, coming from the Sharjah / Dubai side.
Roasted Corn
Note the sophisticated wind machine.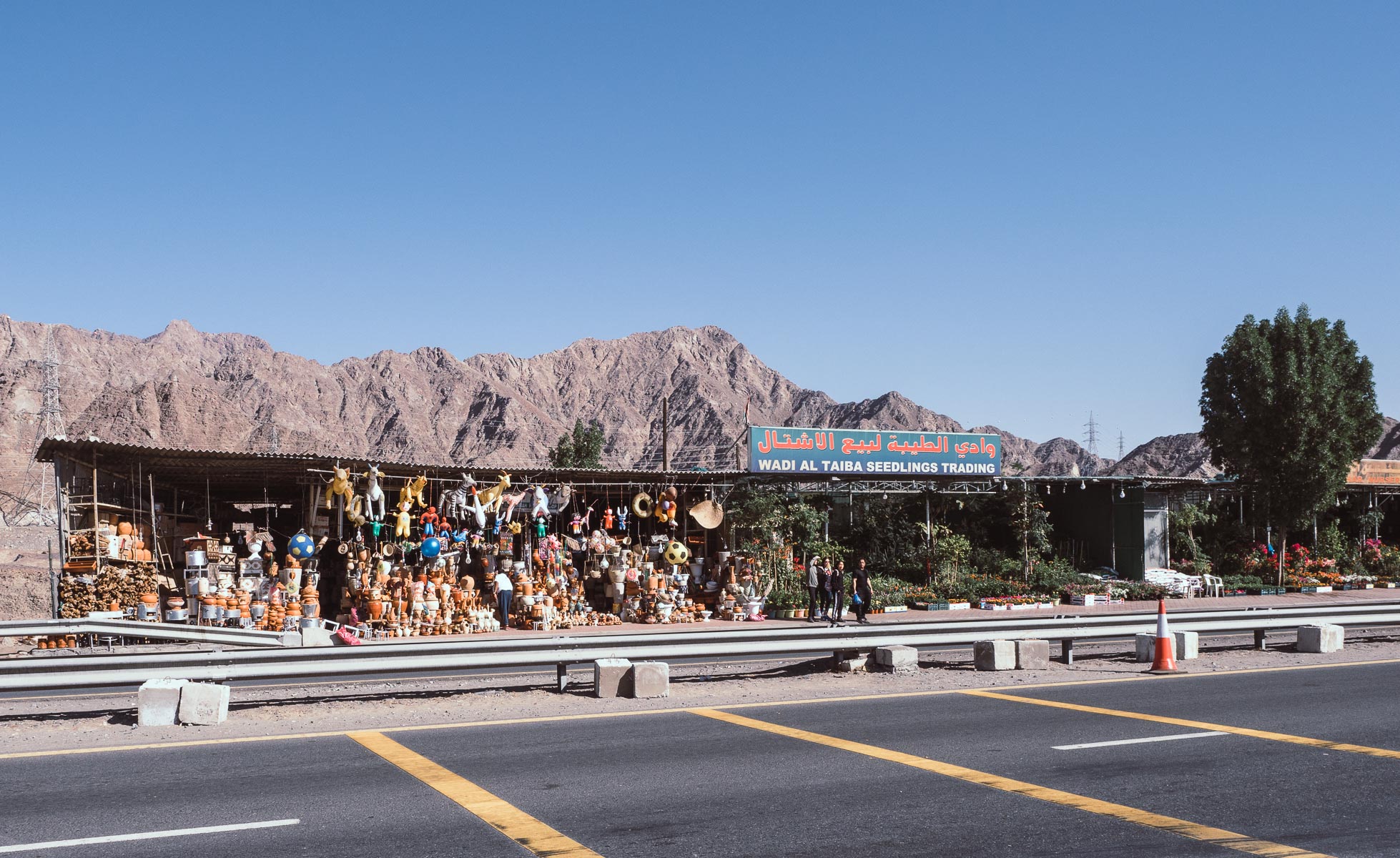 The Wise Men
Discussing topics of importance.
Graffiti - Masafi Style
Spotted on the road from Masafi to Dibba
Towns
A small town outside Masafi.
Dibba Harbour
The National Day weekend meant the UAE flag was a common sight.
Camping
Is a common activity in the Eastern Region. Tent designs vary.
Hidden Gems
There's a few beautiful spots on the coast.
Al Badiyah Mosque
Said to be from the 15h century, a few km north of Fujairah City.
Watch Tower
One of the two watch towers overlooking the mosque.
Views
Looking inland from the tower.
Age
Since neither the mosque or the tower used wood, radiocarbon dating was not an option, but in the late 1990s researchers concluded it was more than 500 years old.
Reality Check
Photos can be deceiving. It was the National Day weekend after all, so the ocassional bus load of tourists arrived.
Fujairah Fort
Again the exact time it was built isn't clear, but probably ranges between the 16th and 18th century.
Inside
The fort only opened to the public in 2010.
Views
The fort is a on small hill and you can walk up one of the watch towers to get this view.
Stairs
Not made for modern sized humans.
Doors
Surrounding the fort are remains of a few old mudbrick houses.
Sheikh Zayed Mosque
The second largest mosque in the UAE, after its cousin in Abu Dhabi named after the same person.
Architecture
65 domes and six minarets, each between 80 and 100 metres tall.
Casual
Cleaning of the largest dome was in progress.
New
The mosque opened in 2015.
Size
It can accommodate 28,000 people.
Shawka Pools
With very little water this time of the year.
Wadi Shawka
Just off the E84 from Fujairah to Sharjah.
Spiky
Typical vegetation in the Hajar mountains
Seasons
In the rainy season, this area will be flowded
Shawka Dam
This area is full of water when it rains - right now, you can use it as a Cricket field.
Hajar Mountains
The beauitful mountain ranges of the UAE.
Worth a Visit
Especially during sunset.